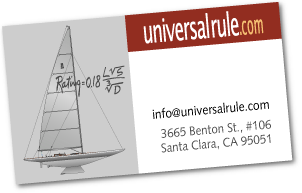 ---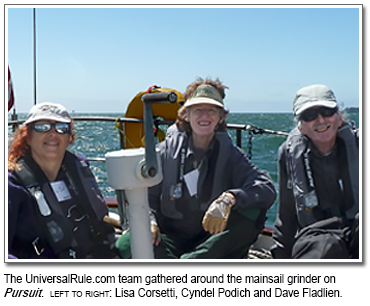 The universalrule.com team got started in late 1998 when an associate of Dave Fladlien's suggested to Dave that he really ought to direct his efforts – which at the time were mostly fun experiments – to the design of a new M-Boat as part of a serious effort to bring back the class. This idea gave a lot more meaning to trying to develop an M-Boat design, but also greatly expanded the scope of work. Cyndel Podich immediately joined the effort, and Dave and Cyndel started work on a web site. Wanting a professional-looking site, and not being web programmers, they started looking around for a way to get the programming for their universalrule.com website done. Lisa Corsetti, who had previously worked for Dave, and who is an outstanding software developer, offered to join the team, and the universalrule.com team was born.
As all three people had other careers, all the work took a long time, but it got done and presented the ideas in a way appropriate to 1999 technology. From there, all the work was in background boat design development, which Dave Fladlien kept up as the years went by. Eventually Cyndel got interested in the interior arrangements, and started working on those.
Then in 2012 Lisa pointed out that the existing web site didn't nearly meet the demands of modern technology, with iPads, iPhones, Android phones and tablets, etc., so the same team set out to dramatically revise the web site. At the same time, a lot of progress had been made on the Fladlien M-Boat design, and Dave and Cyndel had begun sailing on Ron MacAnnan's M11, Pursuit, which he had been restoring for many years, and which Dave and Cyndel had followed with great interest, and wanted to include on the new web site.
Due to other work in their lives, the team didn't have much availability to work on the new web site, so it somewhat languished for a while, until Dave was finally able to – at least temporarily – pursue the design and promotion of modernized classical boats full time. At that point, early Summer of 2014, Dave and Cyndel founded Fladlien & Associates, LLC, a design firm whose main interest is the design of modernized classical boats, sail and power.
Meanwhile, Lisa had started sailing on Pursuit (Lisa is an avid sailor and also flyer), and she got involved again in doing the sofware work for both the new universalrule.com, and for the new Fladlien & Associates, LLC, website.
This site and the companion Fladlien & Associates site are the outcome of those efforts.
---
Web Site Concept & Specification
Specification of the tone, content and organization of universalrule.com was developed by the site's originator, David J. Fladlien. Additionally, all of the text was researched and written by Dave Fladlien, who also created all of the designs and drawings which Cyndel Studios adapted for use on universalrule.com.
Dave Fladlien is Manager and Chief Designer of the design firm Fladlien & Associates, LLC, founded in May 2014. Fladlien & Associates is continuing development of a modern M-Boat design. This ongoing work produced the drawings seen on this site.
For further information contact David J. Fladlien, dave@fladliendesign.com
---
Web Site Design & Graphics
The universalrule.com website was designed by Cyndel Podich of Cyndel Studios. Working with the elements and specifications furnished by site originator Dave Fladlien, Cyndel developed the concepts and appearance of the website and produced all of the graphics for the site, ranging from original designs (e.g. logo and home page), to the images created from actual working drawings provided by designer Dave Fladlien.
In addition to digital illustration and graphic design services, Cyndel is also a sculptor and painter. Her fine art works can be found in a variety of private and corporate collections around the United States.
For further information contact Cyndel Podich at Cyndel Studios, cyndel@cyndel.com
---
Web Site Functional Design and Implementation
The functionality of universalrule.com was developed by Lisa Corsetti. Software developer and consultant for many years, Lisa has worked in areas as diverse as GUI development, machine and motion control, and most recently in web site development. Working from the specifications for site functionality prepared by site originator Dave Fladlien, Lisa developed all of the functional routines used on the site. While in some cases routine, this work also involved some close cooperation with Cyndel Studios to find art/functionality combinations for some of the concepts which would be suited to the web environment.
A person of many interests, Lisa is also a licensed commercial pilot and flight instructor, hence the domain name that appears below.
For further information contact Lisa Corsetti, lisac@flygirl.com
---