If a boat's not well-suited to racing, short cruising, and casual sailing, then the boat's usefulness will definitely be limited. Many of us don't have the time for long passages or cruises, so shorter ones -- or day sailing -- are preferable, and it can be very hard to get boats to a starting line for a race on anything resembling a regular basis, as anyone who has tried to do it knows. So the boat has to be reasonably versatile...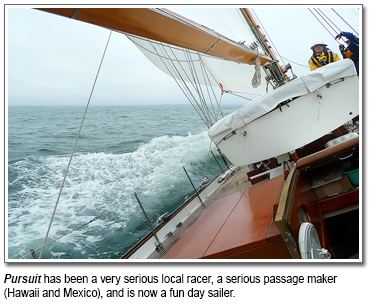 We have a distinct advantage over other types of boats in dealing with this issue, and an advantage we want to exploit by other things we do as well. That advantage, simply, is that an M-Boat is (by today's standards) a very stiff boat: it will carry it's sail remarkably well with a small crew and with few if any people on the weather rail. This makes the M-Boat a potentially great boat for short-handed sailing, whether for casual sailing or for something like coastal cruising. And the fact that it is a great boat for those uses -- while remaining a great boat for racing -- means that it can provide a full range of use for owners. This is the M Class reinvented.
The boats will have a comfortable interior suitable for the racing, short-cruising and casual-sailing options, and of course for delivery passage-making. For the key use of racing, we can explore some known good racing locations, and speculate on others as well. We can go from there to noting which areas might also have some good short-cruising territory, places where racing could be over a period of time, with the boat staying in that general location for cruising or day-sailing in between several race series in the vicinity. In that way it will be possible to get a lot of use and enjoyment from the boat before delivery to another region, given the right interior arrangement and sail plan versatility. The drawings below illustrate our proposal of how to do this:
Compare the racing / cruising sail plans. Hi-tech sails with a quadrilateral jib and staysail and traditional spinnakers and gennakers provide maximum racing fun and excitement. An easy-to-handle double head rig for upwind, and pole-less gennakers for reaching and running are ideal for casual or short-handed sailing.
Immediately below is an enlargement of our proposed racing and cruising interior arrangement plan. It features a quiet and comfortable owner's area aft, two semi-private guest quarters, a private quarters for a professional captain, and a private quarters for two full-time professional crew. These are arranged such that there is also room for a shower, a large galley, and a sail locker accessible from on deck, thus keeping sails out of the interior of the boat. Racing performance is nonetheless accommodated by careful centering of all the major weights within the boat, thus minimizing any tendency to pitch in a seaway.
Large enough to sail to any location, but still not prohibitively large to ship on a freighter (Cyril Tobin brought Windward to the West Coast of the US that way from the East Coast over 50 years ago -- when freighters were much smaller -- so it is definitely feasible), we could conduct a set of race series in one part of the world, do some good racing with some good cruising mixed in, and then deliver the boat by sail or by shipment to some other place for the next year, or even to the other (northern or southern) hemisphere for the other half of the year, providing racing and cruising year around. With that kind of concept in mind, we starting pondering where we might want to race, and where there might be some good racing with good cruising as well. Of course each person will have different requirements in mind for what makes an area a good place to race or cruise, but here are some thoughts we came up with...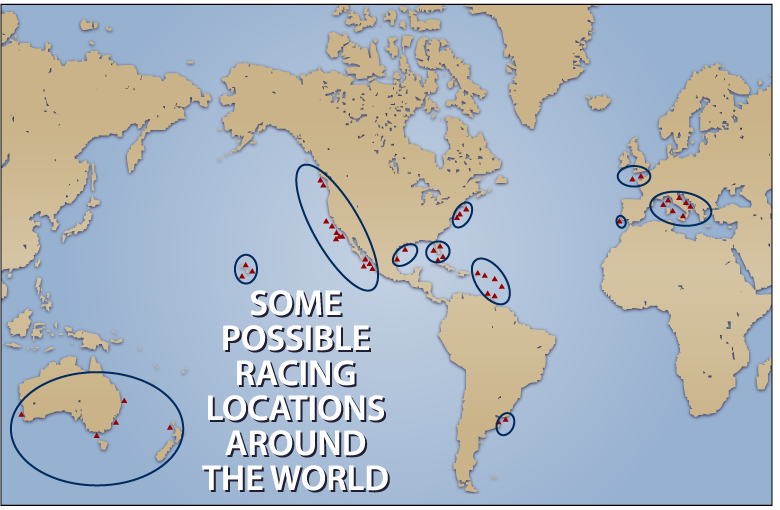 Good racing circuits can be found from Hawaii in the central Pacific to the north central Mediterranean, with that area extending all the way from Spain to Croatia. And going from North to South, from the Southern UK to Australia and New Zealand. Western European countries and/or Scandinavia are also a possibility if there were to be interest in those areas, too, though we didn't fill in every possibility. We've generally circled each major zone, with a view to holding races in that circled region, probably moving around from yacht club to yacht club, or even conducting our own races without an official yacht club sponsor. And some very interesting possibilities come up. Let's take the West Coast of the USA as our example, though we could use many of the other areas as well.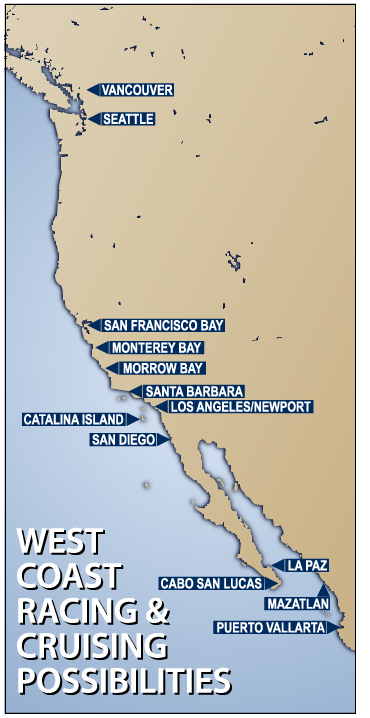 The West Coast of North America, where all three members of the universalrule.com team presently live, extends quite a ways, stretching all the way from the Mexican Riviera on the south to Vancouver, BC on the north. The weather and sailing conditions will be vastly different from one area to another, providing excellent racing/cruising opportunities and challenges. For example, the southern group, Cabo San Lucas, La Paz, Mazatlan and Puerto Vallarta are -- as we understand it -- a very nice cruising ground. It would be possible to race there, but light winds are pretty common so that might be a good winter cruising area before bringing the boat north to San Diego for a late winter series. San Diego is known for light wind too, but there is often good wind in the Spring (as was seen when the America's Cup was there in the early 1990s).
If we then made the short delivery up to the Los Angeles area, we'd be in a place for good wind and water, albeit not necessarily an idyllic cruising ground, but by taking a step out of the ordinary, we could solve that too. The Catalina Channel is a very good racing area, and is immediately accessible from Avalon harbor on Catalina Island. Having M-Boats, which can readily handle the rigors of the Catalina Channel, we could simply relocate to Avalon (a 26 mile sail), and sail a series of races out of there.
Assuming that would take us into late Spring or early Summer, we could then work our way up the coast. Santa Barbara is often light wind again, but if one doesn't mind a cooler climate, the coast of California has many great little bays where one can sail up, and anchor off. We could then race again out of Carmel and Monterey, which would be great racing, and finally move on another one-day trip to San Francisco where we'd have either the ocean or the bay for another venue. (M-boats can easily handle the kind of wind that postponed many races in the 2013 America's Cup). Those who wanted to do so could continue all the way up the coast to Seattle and Vancouver, where more good racing would be very feasible.
There are, in fact, so many options that it wouldn't be possible to fit them all into one season. And -- while the racing would require 2 or more boats in the same place at the same time, much of the sailing wouldn't have to do that. Races from one venue to the next, either fairly serious or far more casual, could be arranged between several of the boats as well. Those owners who have the time at that moment could do quite a bit of the schedule, while those with busier schedules could do the portions they want along the way, simply having their boats delivered to the next venue where they could re-join the action.
The racing/cruising options described could also apply to many of the areas we have circled on the world possibilities map above, and since an M-Boat is big enough to sail to any new location but small enough to ship there too, there is no major issue to overcome to get the boats to any of these places.
That gives us a lot of possibilities for which we think the stiff, powerful but surprisingly-easy-to-sail (especially with self-tailing and hydraulic equipment) M-Boats should be able to do especially well, providing the owner with a full range of use of his/her boat.