While the M-Class actually came into existence with the dawn of the Universal Rule in 1903, the class really gained its fame in the late 1920s.
At that time, a group of members of the New York Yacht Club were looking about for some suitable replacement for their aging and outmoded NYYC 50 (waterline) class, and someone hit on the idea of Class M to the Universal Rule. Harold Vanderbilt, later to defend the America's Cup three times in the larger J Class, commissioned W. Starling Burgess to design Prestige to the M-Class. Junius Morgan built Windward to a design he worked out with Charles Mower, and others joined the project as well. Several members modernized their NYYC 50s to sail with the M Class, notably Clinton Crane, and so the M-Class as we think of it today came into being.
The boats built specifically to the Universal Rule to rate Class M, along with a little history of each, were (in roughly chronological order):
Prestige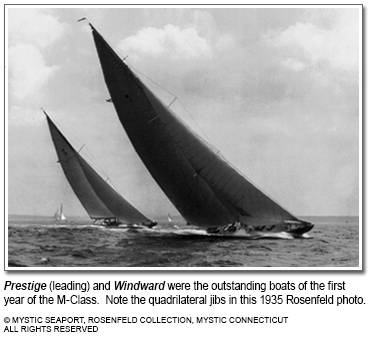 Designed by W. Starling Burgess and his partner for Harold S. Vanderbilt, Prestige was the first M-boat actually built to rate Class M. All earlier boats were actually converted members of other classes, much as the 23-Metres in the UK were converted to rate with the J-Class in the 1930s. Prestige was fairly successful, probably largely due to Vanderbilt's very serious attitude. The boat was probably too tender, which seems clear from the fact the Mr. Burgess increased the beam on his later M-Class designs, Pursuit, Barlovento and Valiant. Nonetheless, Commodore Vanderbilt had great faith in Prestige, even asking Burgess to model the 1930 America's Cup defender candidate after it, as he notes in his book, Enterprise. Burgess declined, making a somewhat finer ended and beamier boat (proportionately) for the J-Class Enterprise, which he felt would produce a better light wind performer, which Enterprise definitely was.
Even at that Commodore Vanderbilt was very fond of Prestige and was not interested in selling the boat even after the M-Class boats no longer raced in a class, according to one historical account. In that account, by the excellent yacht historian Bob Keefe, Cyril Tobin was trying to buy an M-boat and contacted Commodore Vanderbilt, who was not interested even then in selling Prestige, but suggested instead that Mr. Tobin try to purchase Windward, which he ultimately did. After the start of World War II Commodore Vanderbilt did sell Prestige to A. A. Ashton of Boston. Recently a reader wrote in to tell us that the boat was still in the Northeast in 1963, as he had spent that summer working on it. We have no idea what became of Prestige after that, or if it even any longer exists. If anyone has any further information, please let us know.
Windward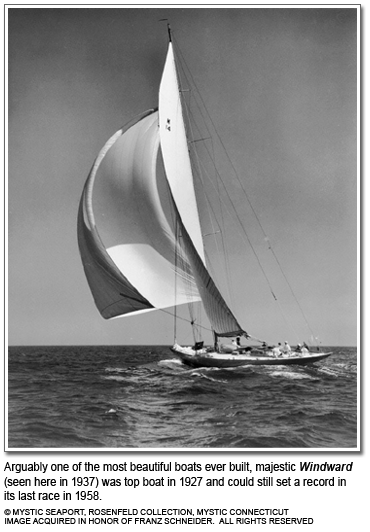 Designed, as I understand it, by Junius Morgan with help from famous designer Charles Mower, Windward was possibly the most successful of the earliest M-Boats, at least while they were all on the East Coast. By the late 1930s, the M-boats were no longer racing as a class, though, and had begun to be dispersed to other locations. Simba, moved to the West Coast in 1931 by original co-owner Charles Deere Wyman, and renamed Patolita, became a very dominant force in West Coast racing. Cyril Tobin, from San Francisco, saw that and decided to purchase another of the M-boats. After trying buy Prestige, which Commodore Vanderbilt didn't wish to sell, he purchased Windward in 1941, but was not able to get the boat to the West Coast of the US until 1946 due to World War II. When he did, he raced Windward on San Francisco Bay, where Windward was nearly unbeatable racing against the old schooner fleet that existed then on the Bay. In about 1951 someone arranged a series of match races against Patolita, Charles Deere Wyman's M-Boat from Santa Barbara (see below). Patolita proved faster on that occassion, and again later when Windward was sold to Southern California as Mr. Tobin's health declined.
In Southern California, Don Chilcott raced Windward in the major short-distance races which were in their peak popularity at the time, but Windward again wasn't quite the equal of Patolita, originally called Simba, and in the late 1950s called Barlovento. Windward did set an elapsed time record racing to Acapulco in 1958, but on the delivery trip back to Los Angeles, the boat slipped its anchor and broke apart on the beach at Puerto Vallarta.
Pursuit (Named Avatar during its East Coast career)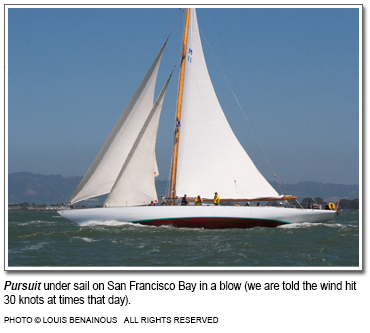 Another Burgess and Morgan design, Pursuit was a near sister of Barlovento (then called Simba), but was raced in New York for a number of years with great success under the original name of Avatar. Ultimately sold to the US West Coast, and renamed Pursuit, the boat eventually became the property of movie producer Harold Hecht and his business partner, actor Burt Lancaster. Pursuit was not all that successful racing in that time period, though.
At one point, Pursuit was chartered by Howard Ahmanson, an outstanding West Coast sailor who also excelled with his 10-Metre Sirius and later with the M-Boat Barlovento which he renamed Sirius II, for the Acapulco race, in which Pursuit performed brilliantly.
Ultimately Mr. Hecht sold Pursuit to present owner Ron MacAnnan, who owns the boat yet today after more than 50 years. Ron however rarely raced the boat, at times using it as a home base, but taking it twice to Honolulu (also done twice by Barlovento). From what Ron tells me, steering the boat downwind in a breeze and big waves was a serious issue. Ron added a second small rudder at the aft end of the waterline, which is still there today. I can attest myself that, even with this rudder, Pursuit is not an easy boat to sail downwind in a confused seaway. We've made some changes in the New Universal Rule to deal more permanently with that issue.
Barlovento (Originally Simba, then Patolita, later Sirius II, Formidable, and now Simba again)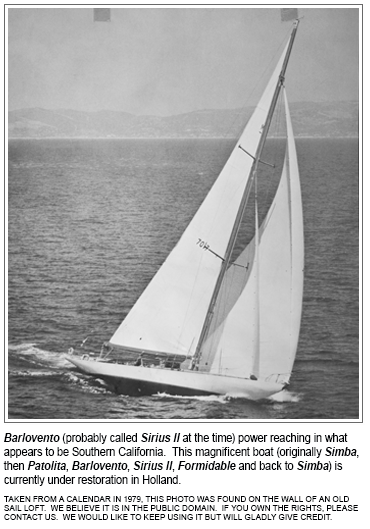 Another Burgess and Morgan design, Simba was built for Charles Deere Wyman, CEO of the John Deere Company, and a partner. After one season of apparently not successful racing in New York, Wyman bought out his partner, brought the boat to the West Coast, renamed it Patolita for his daughters Patricia and Lolita (forerunner of Mr. Stephenson naming his J-Class Velsheda after his daughters Velma, Sheila, and Daphne?), and raced it very successfully against many other boats, including Windward, as mentioned above. After Mr. Wyman's death, Frank Hooykaas bought the boat, renamed it Barlovento, and raced with arguably even more success. Just as my father had seen one of the match races between Windward and Patolita, I saw the start of one of the last races to feature the M-Class, an ocean race which included not only Barlovento and Windward, but also Pursuit.
When Windward was destroyed, Mr. Chilcott bought Barlovento from Frank Hooykaas, and ultimately sold the boat to Howard Ahmanson, an outstanding sailor who was again very successful racing the boat. Following Ahmanson's death, Barlovento was totally rebuilt, and at one point won the California Cup against some outstanding late model ocean racers, before being sold to Florida. It was renamed yet again to Formidable, and ultimately fell into severe disrepair after a successful charter boat career. The boat was then purchased by Cees den Hollander, who, to save it from being broken up for scrap, bought the boat, returned it to its original name of Simba and is presently trying to restore it. This is proving to be a lengthy undertaking for Mr. den Hollander, who has resolutely stuck with it through some serious problems. Hopefully he will yet be successful in saving this wonderful old boat.
And I should probably comment on the name used here: I spent so many happy hours on Barlovento one Summer, that the boat will always be Barlovento to me...
Valiant
The last of the Burgess and Morgan designs, Valiant apparently had some success racing in New York, but thereafter we have no history of the boat at all. Like Prestige, we don't know if the boat exists today or not. It simply vanished. As with Prestige, we would appreciate any infomation that anyone has on the whereabouts or ultimate fate of Valiant.
Istalena
Designed by L. Francis Herreshoff, son of the famous Nathanael Greene Herreshoff, Istalena was a somewhat radical boat for its day. Built to the upper limit of the Universal Rule (maximum waterline = class rating * 1.08 + 5 feet), Istalena startled everyone by proving to be the fastest M-boat by the accounts I am familiar with. The J-Class Whirlwind was an enlarged version of Istalena, but was not at all successful, and was said to have severe steering problems. Istalena was sold to the Great Lakes, at one point converted to a yawl, then sold back to New York, and then -- as far as the folks at the Herreshoff Museum have been able to determine -- was lost at sea in a storm. It is a very murky story, with a lot of intrigue surrounding the disappearance, but the best information we have is that Istalena did in fact sink in a storm.
So, while a couple of fine old M-boats still exist, the class is gone today and really has been since World War II. But the point was proven, both in sheltered and open-ocean racing: the M-Class is a great class, ideally suited for spirited buoy racing, yet capable of handling anything an 80 foot boat should be able to handle on the open sea.
While it is no more possible to bring back an era of racing than it is an era of steam travel or circumnavigation in sailing ships, it is most certainly possible to bring about a renaissance of this fine class, modernized to produce good new racing boats today, yet using the same basic rating rule to produce boats of the same kind and with the same beauty and similar wonderful sailing characteristics. That is one key objective of universalrule.com: to bring about that revival.
-- Dave Fladlien