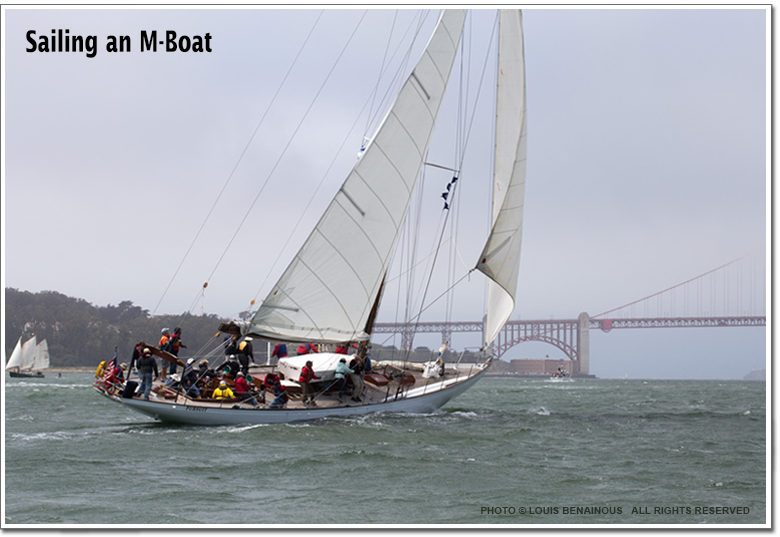 A DIFFERENT KIND OF SAILING EXPERIENCE by Dave Fladlien
There are two things about Pursuit which set sailing the boat very much apart from sailing other medium or medium/large boats. The most apparent is that Pursuit is a strictly traditional boat: no modern sail-handling equipment at all. That we definitely intend to change in a modern M-Class. The other is the beauty and inherent sailing characteristics of this kind of boat. That we definitely don't intend to change.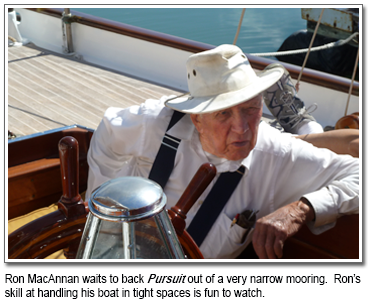 This is a story about those two basic differences...
As far as any of us know or can find out, there is only one M-boat sailing today, so we consider ourselves especially blessed that it is close by in Sausalito California. That boat is Ron MacAnnan's Pursuit, M11, originally called Avatar when racing on the East Coast. Purchased in 1937 and brought to the West Coast, ultimately renamed Pursuit, this boat has had a long and at times very successful career, first as a racing boat, then as home to the owner, and finally as a wonderful boat for casual day sailing. Not bad for a boat that's over 85 years old!
Much of the boat is original, though Ron has put a lot of work into the boat, and continues to do so on an almost-daily basis. We think the spruce mast is original, though in 1931 the boat did have a duralumin mast for a while. Pursuit is built of mahogany planking over steel frames, a construction we could still use today but probably wouldn't. A new M-Boat would of course be far easier to maintain, due to modern construction. In addition, Pursuit has a great deal of wonderful old equipment that is fun to even examine from a historical standpoint. At the same time, these require a lot of extra work to maintain due to the lack of replacement parts. A perfect example is the classic Paul Luke mainsheet coffee grinder which must be in excess of 60 years old.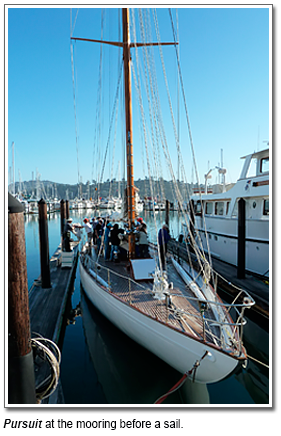 We've had the privilege of sailing with Ron on Pursuit several times, and hope to have many more. While Pursuit is a truly traditional boat (there's not one self-tailing winch on board, for instance), this is still not a very hard boat to sail, despite its size. For me at least, there is none of the very heavy, super-high-load feeling that I had sailing an IOR Maxi boat. Things are of course large and heavy on Pursuit, but they don't seem unmanageable. Nor does one have to be a world-class sailor to handle the boat. While I believe I'm a pretty competent sailor, I'm definitely not a world-class professional, but I feel at ease on Pursuit. Cyndel is not an experienced sailor, and one would rarely pick an 82 foot racing boat as the boat to learn on, but Cyndel and Pursuit have done very well together. There are no jobs on the boat that Cyndel can't do, at least with a little coaching.
Pursuit is kept at a publicly-accessible marina in Sausalito California, and is almost right up against the street. As such, Pursuit is a real visitor's attraction, but unfortunately is in fairly shallow water so that we have to time our departures such that it is possible to get the boat out of the dock. For us that essentially means we need to sail on days when the high tide is at about 9:00 AM.
On a boat this size, some formal organization is a real necessity unless one sails with a very regular crew. Pursuit sails with a lot of "irregular" crew members, so there has to be a way to get everyone working together quickly. So upon arriving at the boat, we first have to sign in. While we have sailed the boat with 12, and could manage with even fewer with some more modern equipment, we usually have about 18 to 20. One of the guys who knows the boat well will act as crew chief, and he'll have a sign-up page where people can choose a job they feel comfortable doing, or would like to do. Sometimes that will include taking a turn at the helm, if the weather is mild enough to permit people who may be less experienced to do it. Usually someone comes up with a home-made set of name tags as well so we figure out who each other is. All of this is a nice way of making sure that a number of people can be involved in assembling a crew for the day, and then making sure we can all communicate comfortably.

One time when we went out on Pursuit we found that a working line from the masthead had gotten away and was hanging there with its bitter end about halfway up the rig. Someone had to go aloft and get it. The crew chief asked for volunteers and to my mild surprise, Cyndel jumped right in and said she'd do it, and that she did, as the accompanying photos show.
Once we're signed in and have stowed our gear, it's time to lend a hand getting the boat rigged. If you're new to the boat you have to ask the crew chief what to do, but after a couple times on the boat it becomes pretty easy to pick a few jobs and do them. Normally they are tasks like taking the cover off the mainsail, rigging the jib sheets, getting the jib and staysail on deck and hanked onto the headstay and forestay, etc. All the routine tasks have to be done of course, so someone has to bring the winch handles on deck, close up the ventilators and all the things we all do on sailboats.
Like all traditional boats, Pursuit has the potential to be wet, though we so far haven't encountered much of that, even in 25 knots of wind, but some of us will take a break from rigging to go below and put on wet weather gear, then we'll assemble a team on deck to fend off the dock and Ron will back Pursuit out and we're on our way. Going out of the harbor and into Richardson Bay, one of the experienced people will spend some time with those who have signed up for the running backstays to make sure they have some experience on a fractional rigged boat, or at least have a clear understanding what to do. More than anything else, the runners are somewhat unforgiving: the job isn't hard to do, but it must be done right or the rig could go over the side. We really want an experienced sailor on each of the upper runners (using a double head rig, Pursuit has two sets of runners, one corresponding to the headstay, the other to the forestay to keep tension on the staysail luff).
Just beyond the Sausalito Yacht Club Ron brings Pursuit head to wind and a couple of the bigger guys spring the mainsail halyard as the main goes up, threading its way between jack lines and running backstays, and reaches the top of its hoist. Ron will then bear away onto starboard tack, we ease the port runners, and we're on our way across San Francisco Bay toward the City.
As soon as we fill away, the guys at the mast start the jib or the staysail up, we sheet it in and we're really on our way. We'll continue on across the Bay (which Pursuit traverses pretty quickly) until we are in a good position to tack and head out under the Golden Gate Bridge and on out into the ocean. As soon as we have cleared the bridge, and done a tack so that we are confident that everyone knows what to do, we'll hoist the jib or staysail -- whichever remains to hoist -- and continue on the wind until we can clear the south side of the harbor entrance easily, then tack and hold a long starboard down the coast past the Cliff House and the San Francisco city beach. On this boat, it doesn't take too long to get there if there's some wind.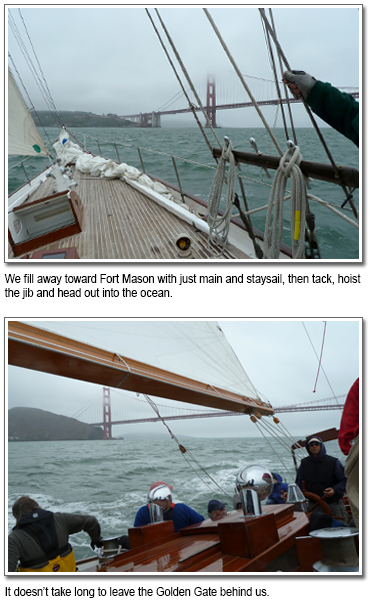 This is everyone's first chance to just relax and enjoy being on a great boat on a great ocean. Even with a considerable amount of wind, we don't need 20 people sitting on the weather rail to keep the boat on its feet. On this boat we'll drop the staysail fairly quickly if it breezes up, but that isn't because the boat lacks power, it's because the boat is made of pieces of wood and steel that are over 85 years old, and we really don't want to pull the poor old boat apart.
If you are involved in sailing Pursuit at that moment, you'll have plenty to do of course, but at other times we've been able to relax and have conversation with our fellow sailors. The first day we went out, we found ourselves sailing with the Historian for the Golden Gate bridge, and stood at the forward companionway studying his pictures of earthquake retrofitting taking place on the bridge. Try doing that on a tender boat that needs a team of gorillas on the weather rail to stay on its feet!
Eventually we'll jibe and run back to the bridge. Hopefully we can set a spinnaker, but that will depend on the weather and the sea way, which can roll a boat around quite a bit and we need a good steady breeze to keep a spinnaker full, as well as crew with enough experience to be able to jibe and douse the chute if we are going to run down into the bay with it up, so that often doesn't get done. As we pass under the bridge again people start breaking out sandwiches, cookies, Cokes and the like and when everyone is finished we'll jibe and reach down the bay for a while, then tack and come back up on the wind toward Yellow Bluff to get the sails down and go home.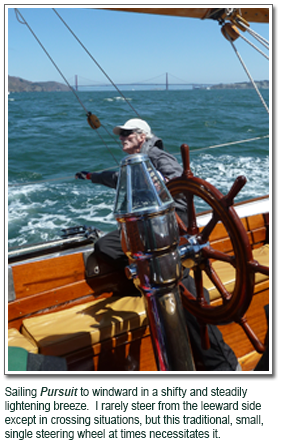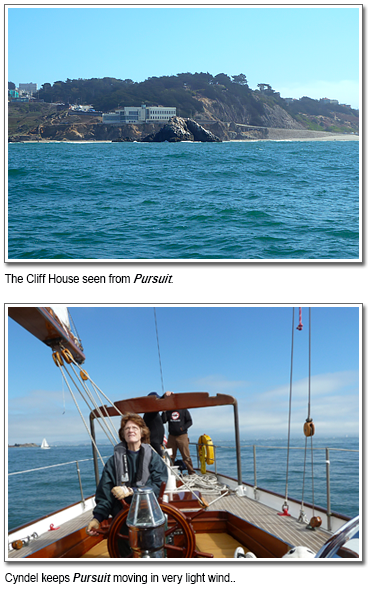 By now it may be blowing around 18 to 20 knots, and it takes some work to get the jib and staysail down and on deck, hopefully without getting them too wet. With 20 people on the boat that really isn't too hard, but then comes the one thing that is: getting that huge (~1700 sq ft) mainsail down and flaked on the boom. This is not too easy in that much wind, but by lowering it one slide at a time and having most of the crew folding and straightening it on the boom, it can be done successfully. (Authors note: I'd really like to watch the J-Class do that some time, they seem to get it done pretty routinely, so they might know something that we don't.) Assuming we do a good job with getting the sails down, there's little left to do but put the boat in the dock, wash everything down, put the gear away and go home.
We spend about an hour getting ready to leave the dock, from the time the first crew members arrive until we get under way, and we spend about the same putting the boat away. Just as self-tailing winches, and even better -- hydraulic winches -- would really make sailing the boat easier, so also jib furlers and similar devices could reduce the preparation and clean up times too. But considering that we have absolutely none of those modern conveniences, we make pretty fast work of it, which is one of the advantages of having 20 people on the boat, especially when most of them know what to do.
In short, this is a relatively easy boat to sail despite its power, and despite its lack of modern equipment. You don't have to be a professional to handle the boat or its equipment, you just have to respect the size and the loads and use good practices to avoid accidents. On any boat this size, you can't afford to get careless.
One thing someone might want to ask is whether we have modified the proposed rule at all as a result of sailing on Pursuit. The answer is 'yes', we have. The most important modification is to require slides on the mainsail and prohibit luff groove devices and require hanks on jibs and staysails.
The sails on Pursuit are not especially hard to handle even with 12 people and no self tailing winches, but if we had sails that came down on deck -- or over the side -- in a heap, that would not be true. The J-Class uses hanks and slides, clearly visible in the photos, but I admit we didn't think of that until we sailed Pursuit. We don't want sails running in tunnels, they'd be way too hard to bring down on deck in windy conditions.
We aren't even in agreement here at universalrule.com about how big the bulwark or railing around the deck edge should be. As the M-Class rule stands now, one is not even required, but the interaction of the deck requirements and freeboard measurement encourage one. On Pursuit, the bullwark is 8 inches high; I think that is considerably more than is needed. The bulwark really needs only to stop a person's foot from slipping off the side of the boat, but as I said, that is not a unanimous opinion even here. Each owner may have to make that determination for him/her self.
But while we were slightly influenced in particulars from sailing on Pursuit, by far the most important thing we learned is that this is a big boat that is a very manageable boat. My experience on a boat this size was previously limited to one experience on an IOR Maxi, and I found it pretty difficult to handle. And I was younger and in somewhat better shape than I am today (although I'm not in real bad shape today). Pursuit has never been difficult to handle like that, even with over 20 knots of wind and in a fierce chop.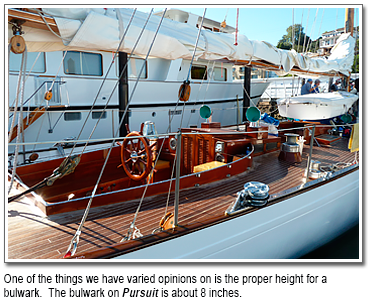 We are sailing this boat with a pick-up crew (albeit making sure there are some experienced sailors), many of us are older people, and we haven't sailed together before. So we do use some caution, but as I said before, the boat is simply not intimidating like even a 50 foot ocean racer used to be. That is the main thing we've learned: powerful though it is, the M-Boat is also a very manageable and fun boat to sail. And that is, for a lot of us, a lot of what this sport is about. We knew M's could be great racers; we've found they can be great day sailing boats too. They are really pretty versatile.